To provide our customers the best product and value available in the market. We provide these with a dedication to the highest quality of customer satisfaction delivered with passion, compassion some humor and style.
To become Arizona's leading Wholesale Fresh Flower Warehouse, understanding and satisfying the needs and trends of the new generation of florist, artist and designers.
As if one owner from South America was not enough…
we went to Europe too! Born in Paris, France,
her experience in business management has much to offer to our tough industry! Energetic Juliana has learned all about the business alongside sales and purchasing. When away from work, she enjoys some shop til' you drop and can always go for some quality time with close friends.
Email: Phone: 602-714-7514 ext. 201
Everyone has got to have the Midwest guy! Originally
from Iowa, funny man Dan is one of our precious gems here at
We Got Flowers. With over twenty five plus years in the floral industry, Dan is our definite go to with the difficult flower questions. When not dedicating his undivided attention at work, he enjoys some quiet time at home with his lovely wife and fur babies and watching a good round of golf.
Email: dan@wegotflowersaz.com Phone: 602-714-7514 ext. 202
Born and raised in the valley of the sun,
Sunshine Steve has been in the floral industry since he was
a teen, learning alongside his Dad, giving him twenty-five plus years of sales experience in the wholesale business. When not at work, Steve enjoys some time at home with doggies and raising chickens. When given the opportunity, he also enjoys a good day of sports or boating alongside his wife of twenty plus years.
Email: steve@wegotflowersaz.com Phone: 602-714-7514 ext 205
We at We Got Flowers have no need to wait around
for fourth of July to enjoy a colorful show of fireworks. Our firecracker Art is one of the biggest free spirits in disguise. As a driver for many years in the floral industry, Art's passion and love for his job are evident and are only a small piece of proof of his wonderful personality. When not at work, he enjoys every sport, every game. Our guess, he could probably even tell you the Champions of every season for the last ten years.
Email: Phone: 602-326-3563
Isidro is native from Guanajuato
Mexico he is been in the US for 28 years and has been working with flowers for over 27 years. He is an exceptionally dedicated and resourceful in everything related to plants and nurseries. He has extensive botanical knowledge and excellent customer service skills.
Email: sales@wegotflowersaz.com Phone: 602-714-7514
Born and raised in Phoenix and Scottsdale Community
College alumni, Chad has been in the IT industry for over
twenty years. He enjoys learning about the new technologies
and also enjoys the constant evolving industry. On his spare
time, he enjoys a good work out, cooking, and baking amazingly
delicious cookies for his co-workers.
Email: Phone: 602-714-7514
Anita is a quality assurance expert with over 11 years of experience on customer service. She is the friendly voice that hear over the phone. She has been married for over six years and is the proud mother of three beautiful children. On her free time she enjoys going to her older son football games, her daughter dance recitals and cuddling with her little baby.
Email: Phone: 602-714-7514 ext 204
Jose is our law enforcement officer. He has been a
member of our team since he was 16 years old and we have seen him grow and accomplish his goals throughout the way. When not working his full time job for the state, Jose can be found working at the warehouse making everyone laugh with his outgoing characteristics and creative personality. Jose enjoys traveling and hanging out with his family on his days off.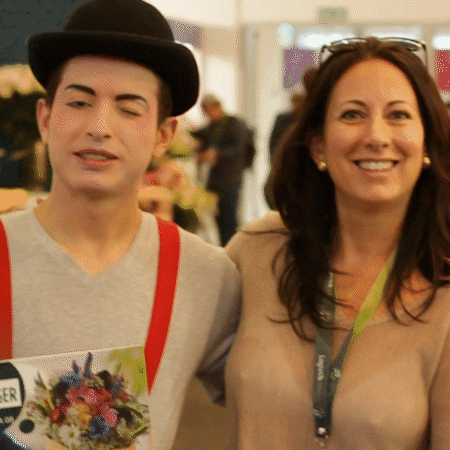 Owner of We Got Flowers, raised in Ecuador, Daniela brings the real connections from Ecuador to Downtown Phoenix, offering our customers the best of the best! Whenever she is away from working hard at growing our wholesale warehouse, she enjoys spending time with her three boys at home, her puppies!
Email: Phone: Phone: 602-714-7514 ext. 203
Alfredo has been a part of We Got Flowers since 2015! His bright and bubbly personality puts smiles on the faces of all the crew here. He loves to play soccer and is super adventurous. This kid has a very bright future.
​
Theresa's was born in Sonora, Mexico.
She has been in the floral industry for over
15 years. Theresa worked as a floral designer at her own shop creating many amazing arrangements. She loves to travel and she volunteers at hospice on her time off. She has been voted best hair in the company 4 years in a row, thanks to her curly locks!
Mar-teen, Mar-teen, the flower processing machine! Martin has been with We Got Flowers for over a year now and has gained so much knowledge in the industry. When he is not working hard in the warehouse, you can find him off roadin' in his truck.
Alejandra has been with We Got Flowers
since the beginning. She does a
little bit of everything around here.
Whatever project is needed Alejandra is up to the task. She is mother to 3 beautiful children. In her off time she enjoys dancing and spending time with her lovely family.